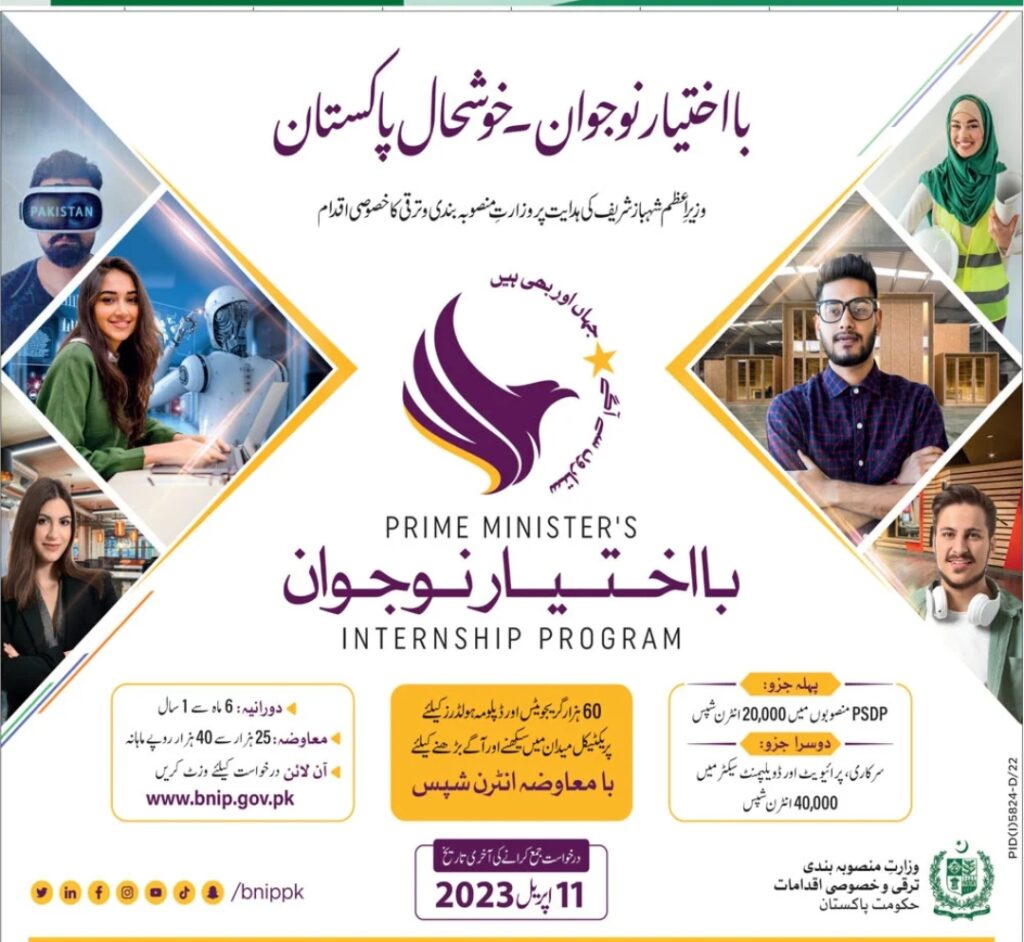 Under the Work-for-Skills component of Ba-Ikhtiyar Naujawan Internship Program, 40,000 paid internships will be awarded to young graduates in public, private and development sector organizations of Pakistan for a duration of 6 months. Interns will receive a monthly stipend of Rs. 25,000 conditional upon the timely completion and submission of their monthly deliverables. Upon the successful completion of their internship, interns will be awarded an internship certificate by their host organization and by the Ministry of Planning, Development and Special Initiatives. Candidates can apply to the Work-for-Skills Internship Program (WSIP) and the Build-for-Skills Internship Program (BSIP) simultaneously. However, candidates selected for one program will be excluded from the selection process of the other program.
Eligibility
 Nationality: Pakistani
 Level of education: Minimum 16 years of education or higher. Minimum 14 years
of education permissible for flood-affected regions, Balochistan, rural Sindh,
South Punjab and Khyber Pakhtunkhwa's merged districts
End date of last degree: Last degree completed within 2 years of the last date of
internship application
Employment status: Currently unemployed
Age limit: 30 years
Duration
The internship will be for a duration of six months. Interns may leave the program prematurely subject to the submission of a one-month written notice to the host organization and the Ministry of Planning, Development and Special Initiatives. Interns who leave the program after a minimum of 120 days of internship will be awarded a certificate of the same tenure. However, those who leave the program before that will not be awarded any certificate. Interns who leave the program prematurely on account of having secured permanent employment will be eligible for an internship certificate for the duration for which they interned at the host organization.